AssetMark Financial Holdings, Inc. (NYSE: AMK), through its operating entities, is a leading provider of extensive wealth management and technology solutions that power independent financial advisors and their clients. One such wholly-owned subsidiary, AssetMark, Inc., is an investment adviser registered with the U.S. Securities and Exchange Commission, and operates a platform that comprises fully integrated technology, personalized and scalable service and curated investment solutions designed to make a difference in the lives of advisors and their clients. AssetMark has a history of innovation spanning more than 20 years.
The Challenge
AssetMark's versatile eWealthManager advisor and investor platform is a one-stop portal that combines both client management and account administration functions. Secure single sign-on (SSO), seamless federation with technology partners, and secure multi-factor authentication (MFA) are all critical aspects of the portal to ensure high customer satisfaction while enforcing modern security requirements.
A significant challenge for AssetMark was centralizing various internal and cloud-based identity and access control technologies with an on-prem, high performant, cyber-secure policy enforcement point (PEP).
To complicate matters, the eWealthManager portal services multiple types of users whose experience accessing, and then within, the portal may vary greatly depending on who they are.
To meet these challenges, AssetMark deployed Forum Sentry as an in-line gateway/cyber-secure PEP securing all traffic (in and out) for the eWealthManager portal.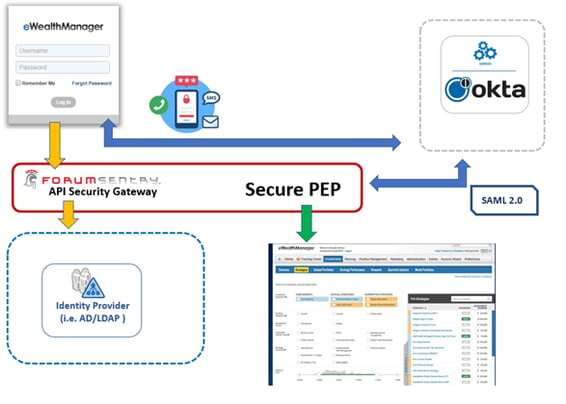 By adopting Forum Sentry as its portal gateway and cyber-secure policy enforcement point, AssetMark has been able to achieve high customer satisfaction while delivering a fast, modern, and secure SSO experience for their varying user groups.


This case study document outlines 2 Forum Sentry use cases in production at AssetMark today:


Use Case 1 – Web Portal Gateway Enabling Secure SSO with Okta MFA
Use Case 2 – Seamless Identity Federation with Technology Partners