Competitive Differentiation
Forum Sentry vs MuleSoft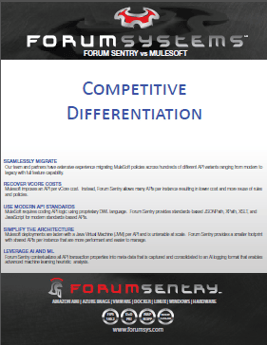 Forum Systems is the provider of the Forum Sentry API Gateway. Forum Sentry is the industry's only API Gateway purpose-built with integrated security, identity, and integration features that dramatically improves security posture and reduces implementation timelines. The product has achieved NIST, NIAP, and the US Department of Defense security certifications and is deployed in enterprises and government agencies worldwide with 100% deployment success and has never been compromised in any deployment.
Our security-first approach distinctly sets Forum Sentry apart from the MuleSoft API toolkit. The Forum Sentry pedigree of security certifications is unmatched in the industry. In the modern era of APIs and hybrid-cloud architectures, security and product compromise are essential foundations of a comprehensive API strategy.
Forum Sentry is designed to be deployed seamlessly in any computing environment and integrate and simplify existing architectures. It does not require rip-and-replace, but rather provides a path to more easily achieve modernization and architecture simplicity without business disruption by bridging legacy and modern technology capabilities and environments.
A key difference between MuleSoft and Forum Sentry is that Forum Sentry provides extensible capabilities that are built-in to the platform while MuleSoft requires substantial developer coding, testing, maven builds, Eclipse IDEs, JAR files, 3rd party technologies, proprietary coding language, and heavyweight JAVA virtual machines for each API. Forum Sentry built-in modules and feature enable easily re-usable design patterns that can target the full set of API lifecycle aspects and user, device, application, workload, data, network, environment, automation, orchestration, visibility, and analytics.
Download the Forum Sentry vs MuleSoft white paper to learn about how Forum Sentry can seamlessly replace your MuleSoft deployment to decrease costs, improve performance and security, and simplify your API architecture.